Installing Rear Air Springs
From the 1994 service manual for replacing the rear bags
Air Spring Removal

1. Turn air suspension switch off.

2. Raise vehicle on hoist. Refer to «Section 00-02».

3. Remove tire and wheel assembly.

4. Remove electrical connector and air line from air spring solenoid valve as outlined.

5. Remove «air spring solenoid valve» as outlined.

6. Depress four plastic locking fingers in bottom of air spring's piston to detach air spring from rear suspension lower arm (5A649) .

7. Depress metal locking tab at top of rear suspension lower arm air spring and rotate to disengage the air spring cap from body bracket.

8. Carefully remove air spring from the vehicle.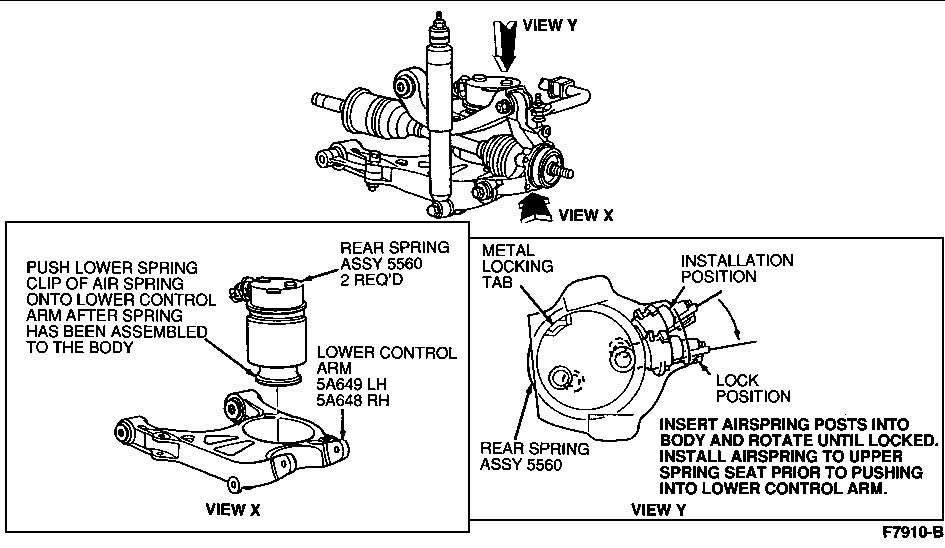 Installation

1. Install «air spring solenoid valve» as outlined.

2. Insert air spring's upper cap into two stud holes in body bracket and twist to lock in place. Rear air spring will fit in either RH or LH.

3. Insert the air spring piston's four lower plastic locking fingers into the rear suspension lower arm so that they lock in place. Visually verify that all four fingers are correctly retained.

CAUTION:

Do not inflate or pressurize the air spring before it is correctly installed.

4. Refill air spring as outlined.

5. Replace tire and wheel assembly. Tighten wheel hub bolt nuts to 115-142 N-m (85-105 lb-ft).