1993 Stock Mark VIII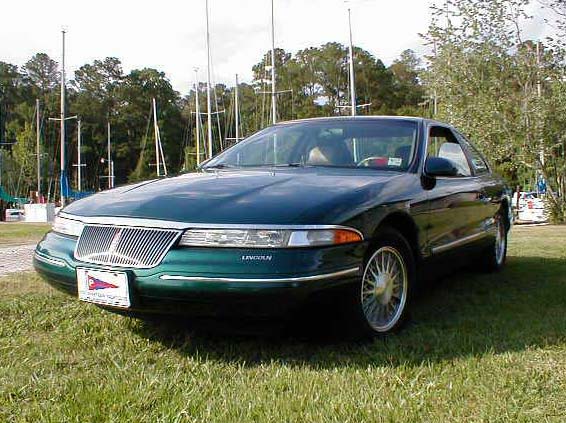 Ron Siegel bought the 93 on march 20,1993. It's a lucious Dark Jewel Green Metallic clearccoat with a mocha interior, JBL sound system and traction assist.He picked it out of a row of 18 Marks of all the colors at the dealer. The manufacturing date is January 1993.
---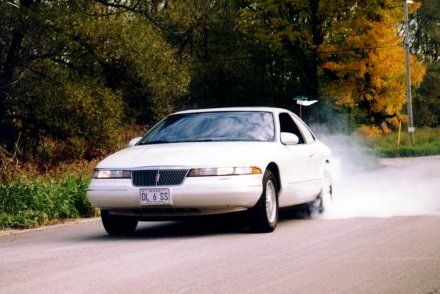 This is Dave Lawson's magnificent White Opalescent 1993 Mark VIII. The reason they call Lincolns "old man cars" is because the is so much gray smoke when you do a burnout with them!

---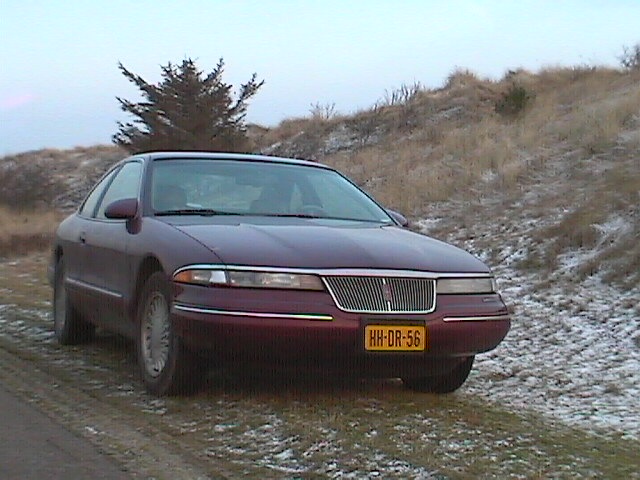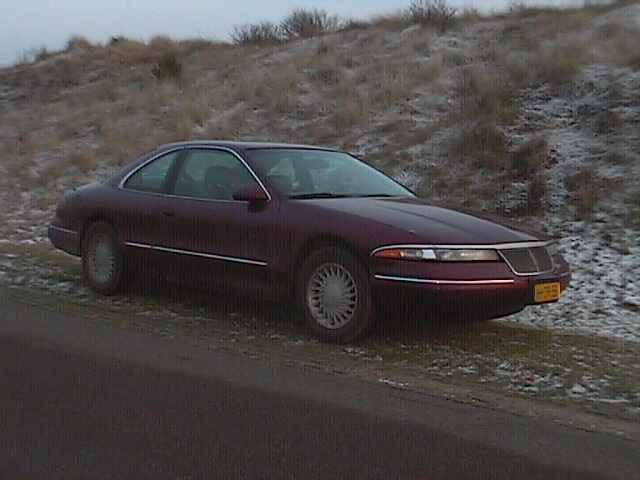 This is Thomas Hacke's 1993 Mark VIII. You might not recognize that license plate, since the car resides in the Netherlands with Thomas. He bought the car last year in November after trading in his old Chevy Lumina that was having increasing problems. The Lincoln cost $12,000 but was much cheaper than a used Mercedes of the same class, which costs $22,000. In his area of the Netherlands, American cars are quite rare, so he has fun driving and watching people twist their necks to see what kind of car he is driving. Thomas promises us to describe his experiences with the Mark VIII on the German highways.

---
This is Michael Galumbeck of Virginia with his 1993 Mark VIII. He has been searching for a Mark VIII for four years. He finally found this fully optioned 1993 creampuff in 1999. He purchased it from a elderly gentleman who had kept it garaged for the past four years.
---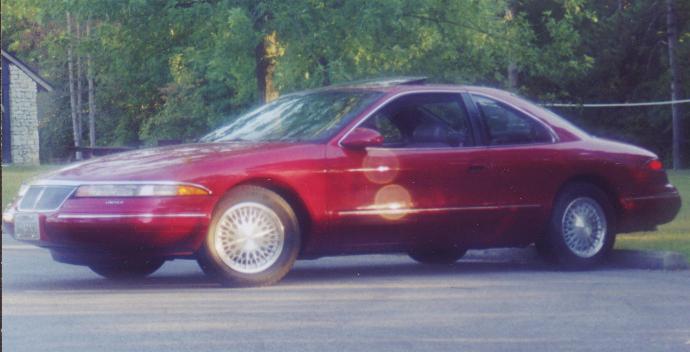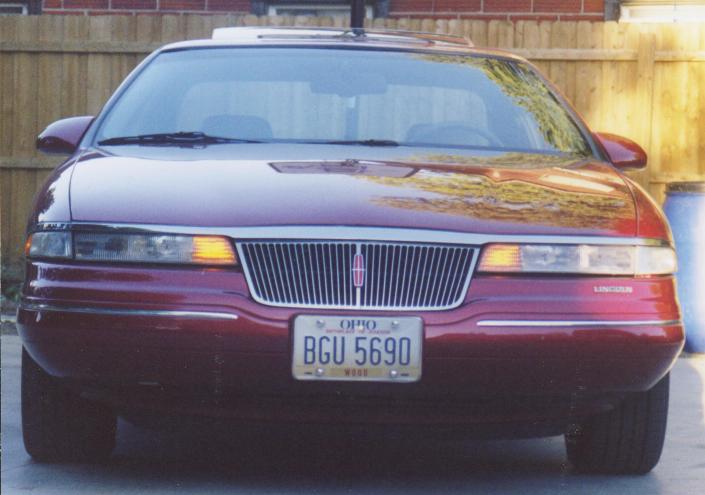 This is Sheri and Rich Dimond's 1993 Mark VIII. Options include a sunroof. He has a SuperChip installed and Rich reports that it runs great. I bet it does. What kind of Mark VIII doesn't run great?

---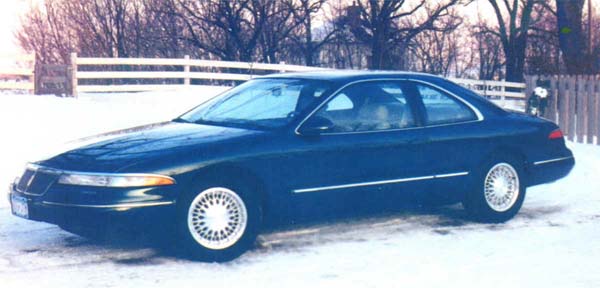 This is Jim French's 1993 Mark VIII, which he bought new off the lot. He always felt the Mark VIII was under appreciated and underrated by the popular press. He feels that the "spare tire" hump on the rear deck, which was so often mocked by the press, is what makes the car distinctive and unmistakably a Mark. Jim describes his stock Mark VIII as a super car that is fast, luxurious, comfortable and does everything asked of it without complaint. He says his Mark is economical, getting 20 mpg in his normal mix of driving, and has achieved 27mpg on a trip from home state Minnesota to California with the A/C on. He also owns a sharp 1974 Lincoln Mark IV which can be seen on Other Ford Cars .

---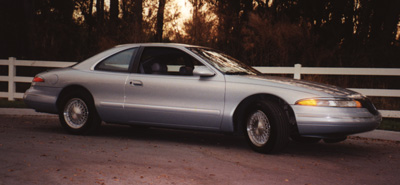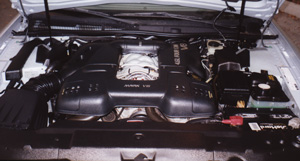 This Robert Burkhardt's clean 1993 Mark VIII. This is the story behind it in Robert's own words:

The first time I ever took notice of a Mark VIII was the year 1995. The car was sitting on the show room floor of Sabo Ford Lincoln?Mercury in Mt. Vernon, Ohio. It was shiny black and intrigued me with its distinctive aerodynamic shape and bold design.

At the risk of being pounced upon by a salesman, I just couldn't resist entering to get a closer look at this beauty. The door to the show room was located to the rear of the vehicle. When I entered, I started inspecting it in such a way as to view the window sticker last. After all, it was a Lincoln and I figured the cost would be beyond my means anyway, but I didn't want to disappoint myself until I had really checked it over unbiased by sticker shock.

As I worked my way around the passenger side toward the engine compartment, I was quickly developing a strong desire to own one of these beautiful machines. When I looked at the engine I remember thinking, "This is too good to be true. I can't believe Lincoln would be so bold as to try and market a `luxury muscle car'." I sat in the drivers seat and marveled at the way dash and all the controls wrapped around me like a well fitting glove. "DAMN!" I thought, "This is a driver's car... I want one of these!" But the price promptly doused that flame of desire, and I rationalized it aside thinking I'd probably never own one.

Now I've always been a muscle car enthusiast ever since I first earned my driver's license and my aunt let me drive her 67 Olds 442 which she had bought brand new and kept meticulous care of. I have owned two other vehicles that were high performance. One was a 70 Pontiac Grand Prix with a 455 HO and the other a 67 Chevy pick-up with a 327 CID that I highly modified. For the last 13 years, all my vehicles have been family sedans. I missed my performance cars / truck. I'm 45 years old and early last year I took a position in a company where I make considerably more money.

About three months ago, my hibernated love of hi?pert autos re?emerged and I started looking to buy a new car to satisfy the "urge". I was focusing in on a new Mustang. There's a used car lot located a couple miles up the street from me that specializes in luxury and high performance vehicles. I noticed it daily on my to and from commute to work.

One day I decided to stop by and see just what all was on the lot because all the vehicles I could readily see in passing looked exceptionally clean. Lo and behold, as I walked the lot looking, there sat two Mark VIII's. As I looked at them, an old memory came alive along with an inner voice that said, "Hey... remember me?" One was a green 93 with 80,000 miles, the other a white 95 with 95,000 miles.

For the next three weeks I researched the classifieds, Internet and Consumer's Reports, studying all the information I could find on the Mark VIII. I visited your web site quite often and now have it book marked on my computer. Last Sunday, Feb. 25, I was at a car wash and happened to meet and talk with the owner of a white 94 Mark VIII in pristine condition that he's had for nine months. That did it... l was hooked. I was going to trade my 94 Grand Marquis the next day for one of those two Mark VIII's I had seen at the used car lot. When I went to work on Monday, I decided to search the net one more time before taking off to deal for the white 95. By marvelous streak of luck, I found a silver 93 listed with 35,426 miles for the same price as the 95 with 95,000. It was at a Lincoln Mercury dealer in Clearwater, Florida. I promptly called them up and told a salesman, "I'm on my way." When I arrived, I really gave it a going over to the point that the salesman told me he'd put it up on a lift and do a VIN information search to satisfy me.

I think he didn't want me to get dirty from lying on the ground to look underneath. The VIN check showed it being clean and proper with no involvement in accidents. When they raised it on the lift, I almost couldn't believe I was looking at an eight year old car. The underside looked as clean as the rest of the car. Even the part number stickers on the fuel lines look new.

I finally test drove the car and left a slightly shaken salesman saying, "You're going to get a ticket." Well... I now know that the color is actually called `opal gray' because ...IT'S MINE!" My wife calls it, "Your mid?life crisis vehicle", and I won't argue the point because she has accepted and likes it too. I love it! I just call it the lucky fulfillment of an unlikely dream that began on a show room floor in 1995. The new Mustang... Hell, I've got three times the engineering and beauty for a third of the price!

---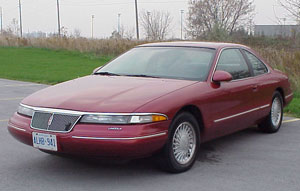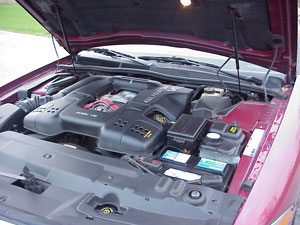 This is Morris Bradley's "Red Rocket. " It is presently in storage. This '93 vintage Mark has 55k miles on it and looks as good the pictures show. He purchased it last August and had to do a lot of owner research to find out if it was as original as he thought it was. This is one of the best looking Mark's he has seen around his town.