1994 Modified Mark VIII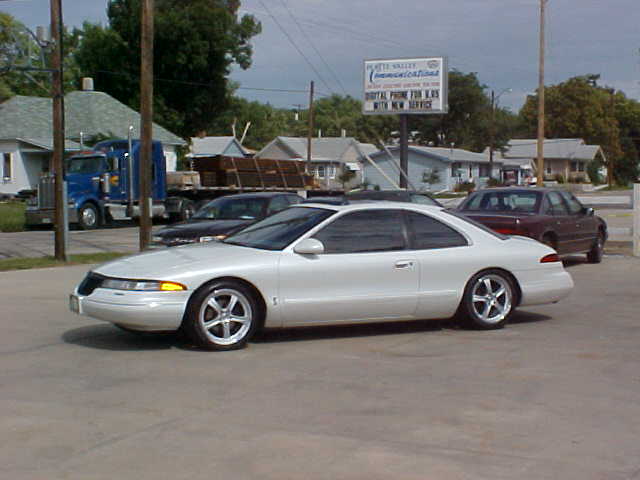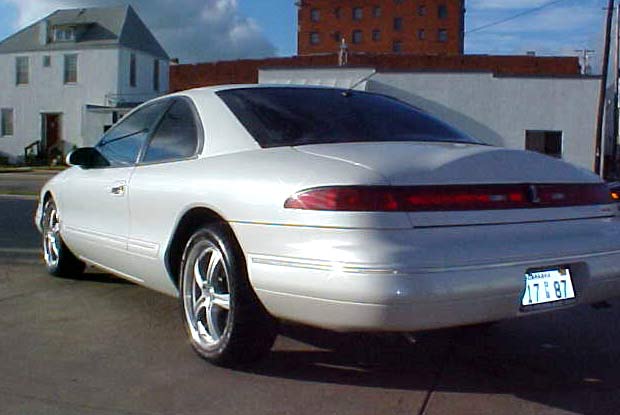 LOD member Rick Johnson says: My 94'daily driver...named "MOE" has 171,000 miles,original paint and original drivetrain! original window sticker,original showroom sales brochure,optional hands free cell phone,sunroof, CD./cass., etc. Twp owner car, list new at $42,890.Opalescent pearl white/opal grey. Things I've done include dark tint,sensor dropped 2", HP Brand 18" w.245/40/18's K&N filter w. box drilled out,"no mufflers" Just 2 cats and a middle resonator and "suttle little tips turned out under rear valance.Sounds like a stock cobra stang. blacked out the front and rear chrome"eyebrows" with satin black paint,added "Cobra" emblems on fenders and trunk.The car was owned by an adult couple who traded it in on a 98' LSC I had traded for from my wifes grandmother...thats what started this whole crazy "fetish" with hot rod Lincolns. I put my wife in a 97' champagne Mark and I just bought a 97' Ivory pearl for the sales lot...and I'm on the hunt for more! Thanks for sharing my pix's.The car has become a good friend to me. I have spent many hours and miles in the old boy...I havent been this excited about cars since I was a teenager...and it all started when I was turned on to the LOD web site!..Thanks a bunch!.
---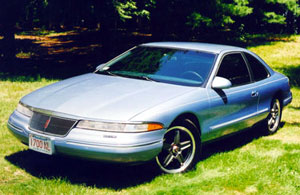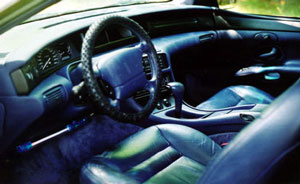 Here's Jason (aka LincolnMan2) Poirier's modified 1994 Mark VIII. It has 77,000 miles and it came with one of the rare factory colors called Portofino Blue. Modifications include: LMS PowerMaxx chip, LMS Megameter Mass Air Kit w/ K&N filter, LMS 2 1/2 inch XX-pipe true dual exhaust system w/ Flowmaster 40 Series Deltaflow mufflers, 8.8 inch posi rear w/ 3.73 gears, carrier bushing kit, Addco 1 1/4 inch rear sway bar, LMS fuel pressure regulator, ASP crank pulley, Nology wires w/ Autolite 764 plugs, 1-2 accumulator spring replacement, Baumann Engineering shift kit, Walboro 255 fuel pump, Hypertech thermostat, Precision Industries 3000rpm stall converter, Team Loco 143 18" anthracite painted wheels, 235/50/ZR18 Yokohama AVS Sport max performance tires, mirror tinted windows, and remote starter.
---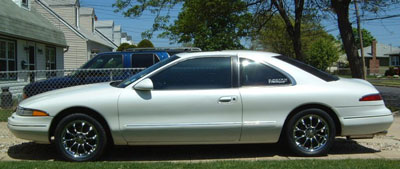 This is John Nocera's 1994 Mark VIII - white angel by day, drag demon by night. The picture on the right was taken at Englishtown in November 2001 when a few of the Metro Mark Chapter of the LOD decided to do some drag racing. Modifications on the car include: Lightning - AGSF - 12FM1 Platinum Fine Wire Plugs, MSD 8.5mm Wires, LMS 2 1/2 inch XX-pipe True Dual Cat Back Exhaust w/Magnaflows, LMS 900 cfm MEGAMETER mass air kit w/K&N Conical Filter,Bullet Proofed Tranny with 3000 Stall Torque converter, External Tranny cooler,Posi Rear (Auburn) with Limited Slip Differential, 3.73 Gears From Ford Motorsports (Speedo gear too), Carrier Bearing cap Stud Kit, Mercon V Tranny fluid, Modified Resonator on Throttle Body Tube, Polyurethane carrier bushing kit, Windows tinted, Kenwood Excelon KDC-815 CD Receiver, Rockford Fosgate Punch 200A4 Amp for Rear Speakers, 2 - MTX Thunder 2300 Amps (One for the Subs and One for the front speakers) 2 - 12" JL 12W3 Subwoofers in custom enclosure New HID headlight assemblies, Performance Computer chip (Jerry's Chip), Auto Meter Sport-Comp Monster Tach w/ Shift-Lite 5'' , Auto Meter Full Sweep Fuel Pressure Gauge 0-100 psi Auto Meter Air/Fuel Ratio Gauge 17" ICW 710C Spyder Tuner Chrome 17 X 7.5" Rims Nitto NT 555 245/45/17 Extreme Performance tires for the front Toyo Proxes FZ4 245/45ZR/17 for the rear 2 Rear BF Goodrich Comp T/A Drag Radials (255/50/16's) on spare rims for the track. BEST time at the track - 14.005 @ 97.52 Mph in the 1/4 mile. Dyno'd at 250.2 RWHP and 264 Torque

---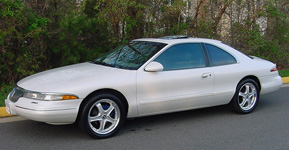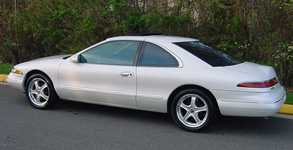 This is Ron Reed's sharp 1994 Mark VIII. It sports aftermarket Cobra style wheels.

---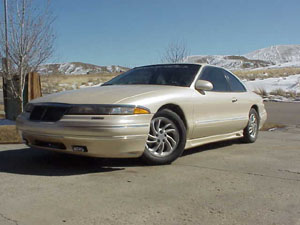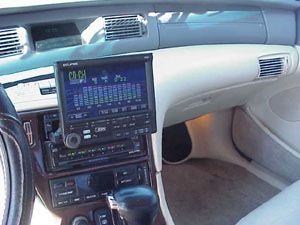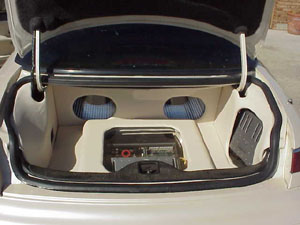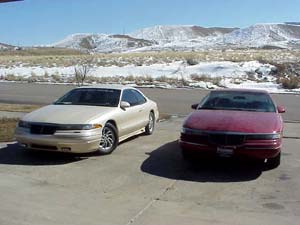 Joseph "Ponyfreak" Barrett owns two Mark VIII's: a Garnet Red Glaze 1994 and an Ivory Pearlescent 1995. The 1995 has numerous modifications, including LMS Generation One Ground Effects, sensor lowered, Viper 550ESP remote start/alarm, Eclipse 7002 with in-dash 6 disk 5962 changer, 2 Phoenix Gold PLDI's, 1 Phoenix Gold ZX475ti, 1 Phoenix Gold ZPA0.5, 2 Ground Zero Nuke 15" subs and Dynaudio MK360 3-way component set in hand formed fiberglass kick panels. All this was custom installed with tons of fiberglass all done by Joseph. Soon he will install a new exhaust with Dynamax mufflers and LMS X-Pipe plus 4.11 gears

---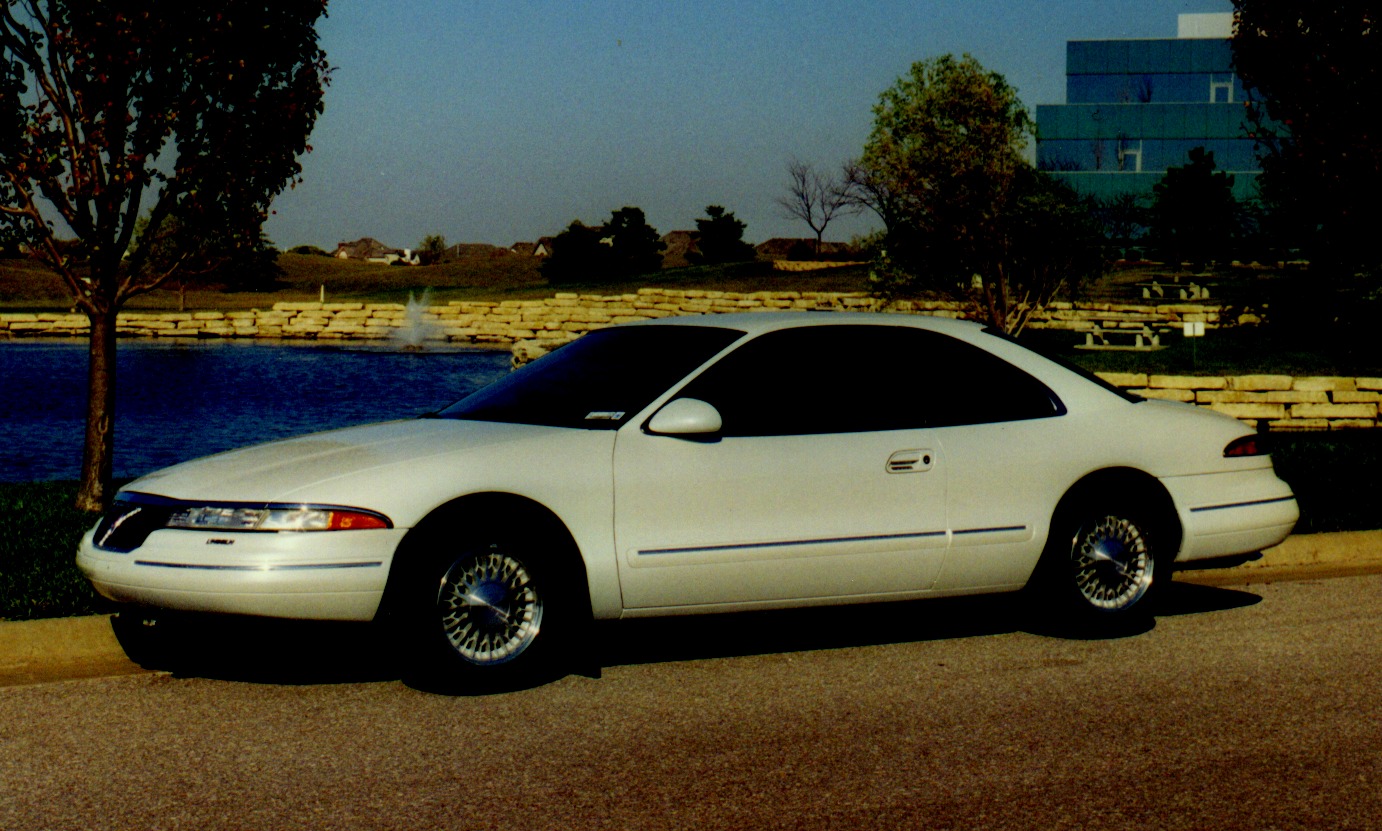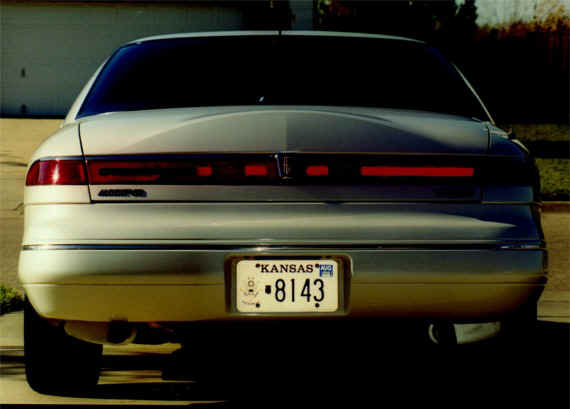 This is Greg Noller's 1994 Mark VIII. He bought it used with 50K miles and as of the start of the 2000's he has accumulated another 15K problem free miles. The modifications on this splendid Mark VIII include an air box modification, K&N air filter, SuperChip, Dyno Max mufflers, 176° thermostat and Firestone SH30 225/60 H tires on stock rims. He uses Mobil 1 5W30 oil and filters. His brother, Gary Noller, also has a 94 Mark VIII.

---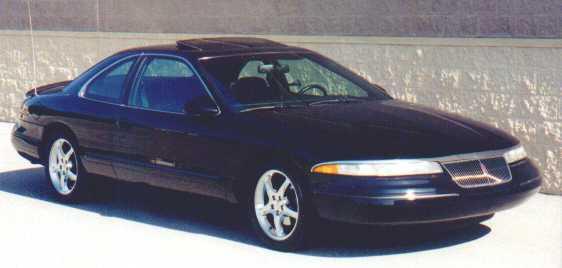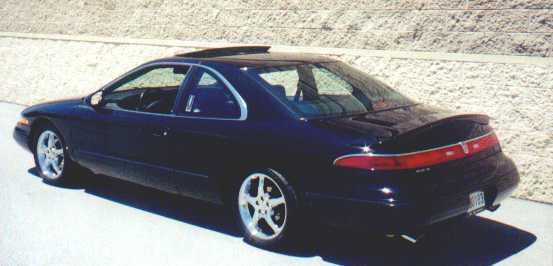 Steve Zipoff's 94 Mark VIII has 17" x 8" Superior Scoundrel wheels with BF Goodrich Comp T/A 255/45ZR17 tires. It's lowered about 1 1/2". Routing the fumes is a 2 1/2" true dual exhaust, with DynoMax Ultra Flo's and tips from Dennis Reinhart. The third cat and resonator has been eliminated. It has a drilled airbox with K & N air filter. Controlling the rapid acceleration is a Superchip with the transmission reprogramming deleted. Handling the shifts is a TransGo shift kit, Mercon V, upgraded 1-2 shift accumulator, new style MLP. Out rear is a Lincoln Motor Sports rear deck spoiler. Carbon Fiber look vinyl graphics is used on the chrome beltline molding. Steve removed the Lincoln badge from the front bumper. He purchased the car in August of '99 with 72K and now have 94K+ mostly trouble free, enjoyable miles. He still has Polyurethane differential bushings, front suspension support brace, and lower engine cradle brace from Kenny Brown to install as time permits.

---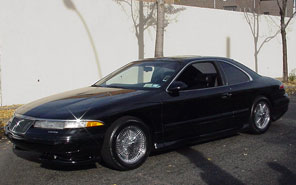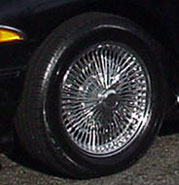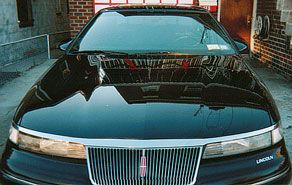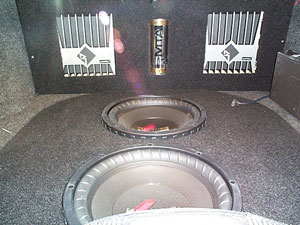 This Arnold "RacerX1200cc" Rosario's custom Black on Black 1994 mark VIII. It sports ground effects, metallic flake Black paint and spinner knock off 17" wire wheels. The stereo on the car is outfitted with Kenwood head unit with Remote Control (radio) Kenwood 10 disc CD changer Kenwood EQ Kenwood Component and Competition Speakers replacing the stock ones, Oval Plexiglas jbc tube with Competition Earthquake 10" speakers, 2 Rockford Fosgate Amps with Fosgate Crossover (1196 watts) Kenwood Capacitor .