Jack R Frakes "WasFuz" a charter member of LOD.
Jack was born on October 8, 1934. Jack died on October 10, 2004 at 70 years old.
Last known residence is at Cody, Park County, WY 82414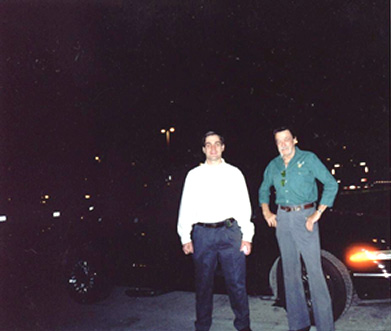 This is a meeting of Co-President Alexander Sosiak and Jack "WasFuz" Frakes in Anaheim, California on February 3, 2000. Alexander from New York was in Anaheim for the Medical Design and Manufacturing 2000 conference. WasFuz was kind enough to travel down 90 miles in his 1994 Mark VIII to have dinner with Alexander in Anaheim.
The picture is a little dark, but note the exhaust cutout under the WasFuz's modified Mark.
Contributed this The Ballad of Carlsbad
Damn what a day today. Turkey shoot, my butt is draggin'.

I drive a '94 Mark VIII. Mods are removal of beauty cover and both the plastic boxes that sit on top the manifold, and the holes capped. By the way that smaller box that is the first one doesn't do anything either. I was a little leery of using the trusty Dremel tool on it, but there is nothing in it, just like the other one. Mods to date include a Jetchip and the Cat-back exhaust system. The exhaust has an electronically controlled "hotbox" that allows the exhaust to bypass the muffler with a twist of the switch inside. When the switch is in its maximum position, I have an open free-flowing exhaust. I have 3.73 gears and a Traction-Lok - all Ford parts. Boy, were they hard to round up!! The Traction-Lok is a part for a Ranger pickup. The ring and pinion are still being produced. They were for a '67 Cougar. The rest of the stuff is pretty standard, axle bearing front bearings, seals and a kit. Am looking forward to finding how "Old Dark" will run... I was advised not to go below 3.55s, but what the hell. I can always have them changed if it doesn't perform on the freeway reasonably, or I may have to buy stock in an oil operation.

Anyway on to "The Great Carlsbad Drags." I get up yesterday morning and drive down to the great Metropolis of San Marcos. Since the racin' don't start until 1 PM I decided to have breakfast. Did, got lost twice, finally found this place.

At first glance it looks the remains of what was "something" in a war-destroyed crater about a mile around and a mile deep.

Wow! I found the front gate, behind a Seven-Eleven store on a dirt road, and there's only one car in line. It's 12 noon, and I think I'm over.

After navigating several bomb craters and ditches carefully so as not to drag anything, I arrive to find this pimply faced sixties hippie on a three-wheeler. I smile at him, and calmly ask how long will the wait be. He looks at me like I just crawled out of a hole and screams for me to get in line. He is waving his arms and turning red, finally I realize that the line he is talking about is back up the crater, onto the busy street.

So I creep back out to get in my place in line. I drive one and a half miles through this business district, still seeing cars in line. I finally find the end and shut down looking around for a spot to take a leak. Not a chance.

I go up to a couple of guys in an appropriate vehicle for the day, a raised 4x4, and visit for a while. This I find is normal. We wait until almost 2 PM and the cars around the curve start moving about one per minute. They got one lane of chuck-hole dirt all the way down into this crap house crater that is wall to wall with dust, dirt open exhaust, etc.

I finally find my way up another 15% grade of dirt and ditches to the line. There are four. One for the big boys, of which there are many, two for street maybes, and one for bikes.

I'm about six cars back in the number two lane, when this hippie on the three-wheeler comes up blasting everyone away with dirt and dust, and starts putting yellow bands on everyone's wrists, the numbers on the cars, etc. He gets to me looks at my birth date 1932 any calmly asks "Who is going to drive this lead sled?"

About then my short fuse was just about used up. I guess the look I gave him made an impression, because he just shrugged his bony little shoulders, and says "Where's your helmet?" Well friends, I must apologize to the population of San Marcos because I'm sure they heard me above the open exhausts around. I started to grab his skinny little throat with just a bit of force, but looked around (No way out) so thought the better of it. He says you better find one before it's your turn pops or we will pull you out.

Well, I never been to a lot of tracks, but most don't require a helmet unless you run less than 14 seconds, which I didn't expect to anyway. I was pissed. I goes all around looking for the damned helmet, and/or a place to water the dust. No luck on the dust, but I finally crossed over this four-strand barb wire fence and gets about two hundred feet up this diet hill in front of the strip to the plywood control house. I find another pimply-faced hippie there that is happy to let me use his helmet for ten bucks.

Well, I've driven one hundred miles, ruined my new wax job, given my blood pressure a fit, and paid twenty bucks already to get where I am. I look down in the crater, and amongst the dust and confusion I see my car being pushed out of line. I grab the helmet, give him ten, and damn near have a coronary getting back down the hill, tore my best pair of worn out Levi's on the damn fence, and get to my car.

Then nice things start to happen. Guys help me get back to my place in line. I'm second now and everyone is commenting about the "BLK SNK", looking over the exhaust system, etc., and then its almost time for me to pull out. Pimples is talking like a tweeker, and I ask him how come the track looks downhill to me. He says proudly "That's why we have the fastest track in Calif."

Oh Well. I finally get out and staged, the Camaro Z-28 in the left lane died, and while they were trying to start it. I shut down, and took my foot off the brake, and my car started rolling!. He finally gets his Z running, gets staged and off we go. I had prepared for this because I could see I would never get another run, so I had the G-Tech set and zeroed, staged deep, air off, trac off, and in drive.

He got the jump on me and for about half way down the track he pulled me then I caught and passed him big time in the lights or just before. I'm not sure just when.

Any way I'm going to post
this before I lose it, and will pee and be right back.
Any how I'm followin' Z back through the blast holes etc., and suddenly I remember the trusty G-Tech. I look at it and it's telling me that we went through at 13.552 @ 111.56. NO Way! I think this thing is scrambled by all the dirt and dust.

We go on up a ways, and on the edge of this little one land weed choked dirt road is a big fat hippie sitting beside another little plywood house in an easy chair. I'm starting to believe that that absolute/driver I had the night before was doing strange things to me. He grins through a beard bigger than mine (but dirty) and says nice run. I look at the slip and can't really believe what I'm seeing. That run did feel strong though.

Then I say, Hey Its after three o'clock an this says12.24: Fat Man says yeah, but at least it's workin' today. Mostly they tell me the times on this (he has a walkie-talkie) an I gotta write 'em down my own self.

As I was wonderin' if he could write he's asking me for a couple of bucks for beer, "cause it sure is dusty down here", I see another car finding its way up behind me. And I did something I've never done before at a strip. I smoked it and left that poor ole' boy in a cloud of dust, that probably took ten minutes to clear, and bailed on up that diet road until I finally found the way back out to the little shack at the front w/kid on the three wheeler.

I stopped for a minute and made sure he called the tower to let the other one know I left the ten dollar helmet with him, and left. Went DIRECTLY to a Texaco that I knew must have a bathroom. And that's Carlsbad.

I made the 100 miles back home choked down the dust with a six pack and then wrote the post and a couple of e-mail's and went to bed I'm sure you all find that extremely interesting The beer and bed part.

Any way when I got up this morning and looked at my car I damn near cried. It looked like it had been on a South African hunting safari. And the damn #49 they painted on the windshield and rear window. Tide and warm water? NO! Guess I'll have to try Comet cleanser.

I forgot to mention that while I was about to find out if I could remember how to implement the choke hold on the tweaked out little turd on the three-wheeler, one other low bread coyote, little track off, asked someone "where did that old scratched-out old bastard come from?

"Scratched-out"? Yeah. Also a survivor.



Written by Jack "Was Fuz" Frakes November 22, 1999

Edited by Paul "Last Mrk" Christenson and Alexander Sosiak