El Presidente
Staff member
Paid Member
Rigged up the SCT X4 and laptop to the car and ran some logs for diagnostics on the AC.
First test, look at AC Clutch PID and AC Pressure PID. Zero results on AC Clutch and very low AC Pressure PID when Max AC engaged. Second test following the diagnostic flow chart using a jumper wire at the AC Cycling switch showed same results. Voltage was verified at AC Cycle switch from EATC whenever AC was commanded, so the conclusion is there is no link to the PCM (and VCRM) over the SCP datalink.
As a third and final test, I put together a temporary harness to go between the AC Cycling switch circuit and the AC Clutch, effectively bypassing the PCM and VCRM. Started car and turned on AC Max. AC Clutch engaged and system indeed worked, likely not at optimum with unknown refrigerant charge but the AC lines and blower output were cold none the less.
I believe the route I will go from here is to use a trinary safety switch to energize the AC Clutch via a relay. I can use the EATC circuit from the Cycling Switch to run through the trinary switch to the AC Clutch. Since the fan appears to function as it should (I was also able to datalog the variable speed fan PID) I think I will be fine without a fan controller. But if later down the road, the fan circuit starts acting up, I can add a fan controller and relay triggered via the trinary switch. Since I don't necessarily feel comfortable with the AC Cycle switch circuit carrying the load for the AC Clutch, I believe it would be best to utilize a relay to energize the AC Clutch coil. According to the PCEDM, the AC Clutch coil draws 2.5 to 4.5 amps. I'm not sure the EATC is designed to carry that load.
Here is a typical wiring schematic for the trinary switch: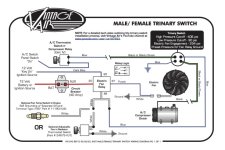 I will use the EATC circuit from the cycling switch to feed the circuit to the trinary switch and then to the relay I will add for the AC Clutch. The trinary switch will open the circuit, disengaging the AC Clutch when high or low pressure cutoffs are reached to protect the AC system components.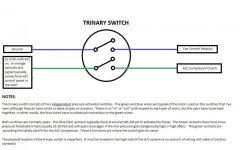 Once I acquire the needed parts I will wire it all up and then return to the shop to have the AC system charged.
Last edited: