Lincoln Evangelist
Staff member
Paid Member
The blower motor for my climate control has been intermittent for a couple years now. I had a kid trained to wiggle the wire on command, so it was easy to put off.
It's so easy to get to, I didn't take photos of the location. Remove the plastic shroud beneath the glove box for access - it's 3 of those plastic push pins.
Once you're under there, everything is accessible. Unplug from the blower motor, and unplug from what I presume is the controller. The whole harness is only about 8" long. Why I couldn't just buy complete one of those, I don't know..
I bought the "four seasons" branded replacement plug off rock auto. The connector itself is an exact match. Even stamped with the same Ford part number. (E6DB-14489-ALA if you're wondering) The wires however, are slightly smaller gauge than the original.
I cut the original two wires at an offset, so my splices wouldn't be near each other, and then slid some heat-shrink on each (as well as a single large heat shrink for both) and soldered everything together. I wasn't going to trust a crimp connector on something that obviously takes this much of a load.
Here's the finished product. I definitely should have taken more photos, but it's been a while since I've done a write up.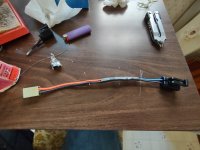 Last edited: