El Presidente
Staff member
Paid Member
The following is an invitation from Ford Performance: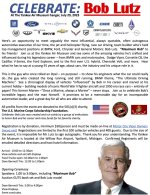 The event is being limited in attendance per Bob's wishes to personally be able to meet all attendees. We continue to field hundreds of attendance requests, and because of that, at least initially can offer only 1 Registration per each of your clubs. That could be 2 cars with 1 person in each, or 1 car holding 2 persons.
If anyone would like to attend and represent the Lincolns of Distinction Car Club, let me know and I will put you in contact with Event Committee Chairman.