Head Moderator
Staff member
I read an old post by Jeremi, showing how the blend door actuator goes too far and was trying to reproduce the test to see what temperature I shouldn't exceed to avoid having to fix this blend door problem again. I was testing this in my driveway with temperatures in the 30's (Jeremi was in a heated garage). I saw that when I keyed on, and set the temp to 65 degrees the actuator pegged at full heat even on manual heat mode. I had the black arm lifted up a bit to show how far past the stop, the actuator wants to go. This is what breaks the black plastic arm, no matter what heat you select above 65, when the car is cold, it will peg the actuator to full heat, putting that force on the plastic arm.
To keep this from happening, I disconnected the temperature sensor (a simple thermistor) under the message center keypad, and experimented with different values of resistance. I found a resistor value that lets me limit the temp on the heater control to 79 degrees, which is still full heat, but not fully pegging the actuator and putting the plastic under stress.
Here's a video showing with the heater set to 65 degrees and key on, the actuator arm is pegged to full heat beyond the stop when the temp sensor is connected. I use a heat gun to heat the temperature sensor, and you can see the actuator arm move back away from the stop as it heats up. With my resistor instead of the temp sensor, I can keep this from happening again and still have full manual control of the heat up to the limit of the grey arm blend door (see post below).
This shows how far the actuator wants to go when the thermistor controls it (I've lifted the arm up so it shows how far it wants to go past the stop).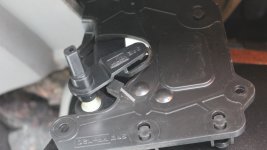 This shows how far the actuator goes now with the resistors and the temp set no higher than 79. It's just a hair from the stop. If you set the temp to 79 with the thermistor in the circuit, the arm will go to full pegged heat when the car is cold. Not anymore.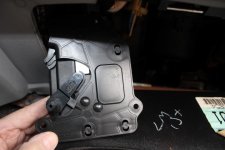 Last edited: