Here you go...for all the crazies!
BUM FIGHTS 1, 2, 3, and 4!!!!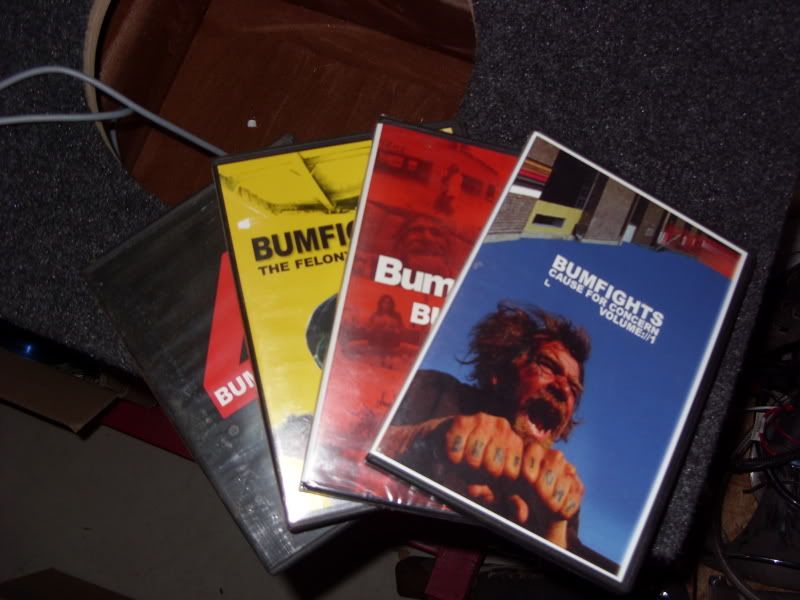 From Wiki...
Bumfights is a controversial film series created by Indecline Films. The videos feature homeless men in the San Diego and Las Vegas metropolitan areas fighting and attempting amateur stunts in exchange for money, alcohol, and other incentives. The first video, Bumfights: A Cause for Concern, was produced by Ryen McPherson, with friends Zachary Bubeck, Daniel J. Tanner, and Michael Slyman, as Indecline Films. Shortly after sales began to escalate, Indecline Films sold the rights to two investors,[1] who went on to produce three sequels.
The videos immediately gained criticism from the mainstream public.[citation needed] The US-based National Coalition for the Homeless (NCH) has stated that the Bumfights videos disseminate hate against the homeless and dehumanize them.[2] In April 2006, the four original filmmakers agreed not to produce any more "Bumfights" videos or distribute videos already made, and to pay three homeless men depicted in the videos, under a settlement announced as a lawsuit was to go to trial.[3]
Bumfights videos
Bumfights: A Cause for Concern (2002)
Bumfights 2: Bumlife (2003)
Bumfights 3: The Felony Footage (2004)
Bumfights 4: Return Of Ruckus (2006)
[edit] Controversies
The videos have proven to be highly controversial. They have been banned in a number of countries including England, Scotland, Northern Ireland and Canada, and most traditional retail outlets have refused their sale.[citation needed] The popular internet auction site eBay routinely cancels listings which contain copies of the video, citing their policy which prohibits the sale of materials which promote or glorify violence.[citation needed] In the state of California, both felony and misdemeanor charges were filed against the producers, as well as civil lawsuits; in 2005,[citation needed] the producers were sentenced to six months in prison for having failed to complete the community service to which they had previously been sentenced.[citation needed] The filmmakers maintain that the production of the video was a mutually beneficial arrangement and that the homeless people depicted freely chose to participate.[citation needed]
The films have likewise been blamed for inspiring a number of violent teenage attacks on the homeless, both in the United States[4] and other countries[citation needed]. A group of suburban Nevada teenagers, who took on the moniker "311 Boyz", also faced criminal charges, including attempted murder, after filming several violent exploits inspired by Bumfights. The suspects attempted to make a profitable video by instigating fights around their neighborhoods, in some instances imposing on unwilling participants.
[edit] End of distribution
The courts involved in the lawsuits surrounding the Bumfights producers enforced the barring of further installments being produced, and stopped sales of videos already made.[citation needed] As a result, Bumfights videos were rendered available through illegal means only.
$100 shipped obo