So I decided that since I have not found a 6' tall redhead to sink my money into I would step my game up to a 19 Year Old Convertible Mark VIII. Ultimately this decision will cost me more, but imma gonna enjoy the ride.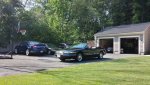 I have already put on the Octastars that I got from DieselDan as I couldn't stand the white walls. I also have a 96 LSC parts car that I am going to steal parts from. Including the front & rear bumpers, side mouldings, HID's and maybe some more. I have a 3 way interior swap in mind. I bought the 96 Parts car to put the black interior into Mr Hyde. Now I plan to take the light graphite LSC interior out of Mr Hyde and put it into the convertible - thus replacing that worn, beat, black, heat death interior with something a lil more sun and skin friendly. Then there is the 19 years of general neglect and 81,000 miles to pay attention to. I have (2) new front bags, and a massive to do list that includes, but not limited to the following....
New OEM Air suspension. Cause it's 19 years old, and doesn't work so well. Also has arnott rear bags that are a few years old and original fronts.
Um, how do I know if the plugs are 19 years old? Thinking Lincoln will be removing them. Engine is smooth though. Fingers crossed.
Transmission work - Shifter is tight as fock and there is some bucking in OD @ low RPM. OD off at low RPM is smooth. Other than that the tranny is smooth as silk.
Rebuild Front End - because it's 19 years old, and this is New England.
Brake Upgrade - Because undersized.
Speed Sensor - the sensor must be bad, speedometer does not always work, directly the same with cruise control.
Rack. Steering seems dead with lots of play. Could be front end slop, or sensor? but I doubt it. Thinking Rack too.
Mostly a sun and dry day, but new weather stripping is in need of attention.
Then the exhaust needs to be helped out a bit.
And a stereo.
Then there is the worry about the frame underneath. It will get a once over and a possible resurrection if need be.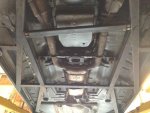 The top is in good working condition but real slow. I will have to take a look at the motor and see about rebuilding or upgrading. I would like to repaint someday, and the ultimate dream list is a roll bar and a supercharger. But for now, I will slowly try and rebuild it and drive it. If I can get 10 - 15 more summer years out of it I will be happy.