I had the Mark VIII detailed last summer and the shop got cleaning fluid on the touch screen and into the keyboard of my Kenwood DNX9960. 8 months later and I'm still waiting for the repair to the Kenwood to be complete. I have finally given up and replaced it with the Pioneer AVIC-8100NEX. When I first installed the Kenwood I posted a two part video on YouTube which can be seen here:
Part 1
https://www.youtube.com/watch?v=koxQj9BN6Po
Part 2
https://www.youtube.com/watch?v=3fmxueNQHpI
After installing the Pioneer I developed an "amp pop" whenever I turned off the car. At first Pioneer said it was a bad head unit and wanted me to RMA it. Instead I found this video on YouTube which makes great sense:
https://www.youtube.com/watch?v=vFIe3IIJIds
I followed the video, bought a couple of resisters and wired them in. The popping is gone.
The Pioneer was a cleaner installation because I didn't have to have an external HD Radio receiver. I'm still dealing with some issues with the Pioneer which revolves around software integration between the Apple IOS and the head unit. For an unknown and stupid reason Pioneer put a glossy screen on their head unit and to overcome the glare I had to install a custom fitted iPad 2 anti-glare screen protector.
Maybe these videos will help other Mark VIII owners!
Anti-Glare Screen Protector Not Installed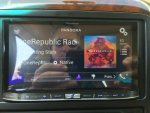 Anti-Glare Screen Protector Installed